Hi guys,
New release today, the version 1.30 is available for free on Gumroad for each Coiffure user.
2 major features in this version, a Coiffure file manager to allow you to duplicate and delete files and new options in the Arnold Manager.
Coiffure file manager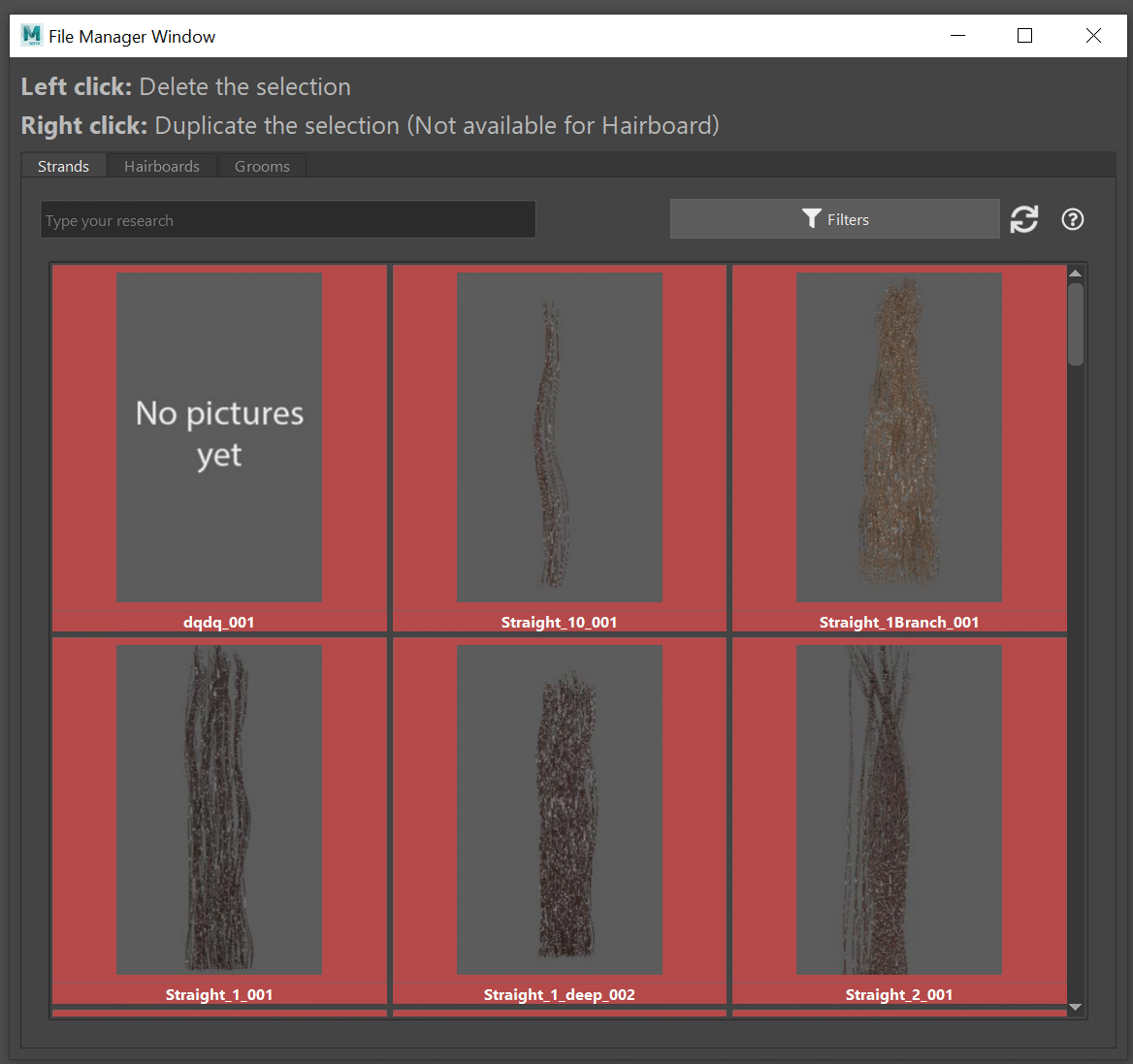 This window has 3 panels : Strands, Haircards, Grooms. The interface should look familiar because it uses the browsing menus from Coiffure.
Right click will allow you to delete a selected file but be careful it's an UNDUABLE command. A confirmation window will show up and if you accept your files will be deleted for ever, so manage this with caution. By the way, do not hesitate to back your Coiffure source file from times to times! 
Left click will allow you to duplicate a selection, a window will show up and ask you to rename this new version.
Duplication doesn't work on hairboards for now. It is a more challenging step to code for me because I use reference files and xgen has a lot of specifics to follow in order to duplicate something. This function will be implemented but first things first, I have to rewrite the strand import system in the hairboard tool. When it will be complet, I might be able to add this duplication feature and also to possibly export a strand from an hairboard (This feature his heavily requested by users).
Both process will manage all the files for you, including xgen dependency, shouldn't have to worries about anything :) 
Arnold manager
 as you can see here we have a couple of new options available.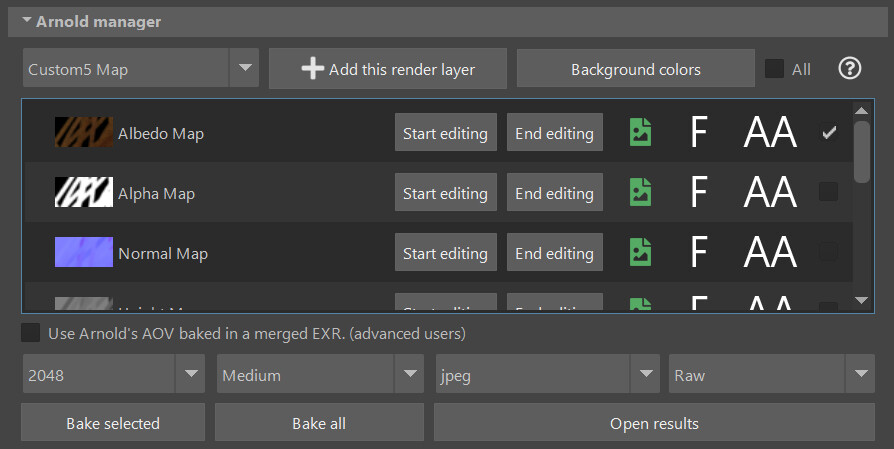 1) Custom background colors

If you click on the "Background colors button a new window will show up. For each render layer available you will have the possibility to set your own color. This could help to avoid artifacts with some compression that could be apply on your texture. For example have a brown color for some brown strand might be better than a black color.
2) Support for Arnold AOV

If needed users can now use arnold default AOV manager to add different AOV in the baking process. Use the render settings panel and add your AOV, then check the button "Use Arnold's AOV baked in a merge EXR.). When you will press the bake button you will received multilayered EXR with all the AOV inside it.
3) Custom render layer

You can now add empty customizable layer. Those render layer will creates a custom shading group that you can use as a receiver for any shading network of your choice. You can add 5 of them
4) Pixel perfect maps

This feature was requested by the user Thomas Sykutera (https://www.artstation.com/sykutera) and will allow you to create more optimized textures. 
Baking hair textures in Arnold is great, however these need dilation/padding in order to mipmap properly. Pixel perfect maps store the texture information either to 100% in a pixel, or to 0% (black, or whatever the background color is). Now, adding dilation to maps works best with pixels that contain 100% of information, as then 100% of the information is being padded. As you always need your Alpha Map to add padding to the Target Map, make sure both (Alpha + Target) are pixel perfect, before using your tool of choice to add padding/dilation.
That's it for now. I will post a new video this week to display some of the most recent feature that need a more in depth explanation :)

Cheers,
Florian